Kildare Avenue, Mission Bay
The construction of this home saw our team apply its skills to meet the challenges of a technically demanding architectural concept.
Introduction
Designed by Kent Dadson from Dadson Architects, this two-storey home features sharply angled walls that presented a significant construction challenge. Absolute precision was needed to ensure that the architect's vision was achieved.
Project Type: New Build
Completed: 2017
Architect:

Kent Dadson, Kent Dadson Architects
Details
Made up of vertical shiplap weatherboards in two contrasting hues, the concept for the home's exterior has been described by the architect as being 'like a slice out of a watermelon'. Delivering these sharp lines was a challenging ask, but the Maxim Build team was able to create them precisely.
The exterior cladding is complemented by custom-made copper gutters and flashing, as well as decking built from Purple Heart, an Indonesian hardwood.
Inside, the house includes three bedrooms, as well as a self-contained, one-bedroom wing that can be closed off from the main home. For an alternative area to relax, a snug was also built for the owners to enjoy. In the living areas, polished concrete floors deliver a sleek look and a Gaboon plywood ceiling shows off custom pendant lights, which were designed to look like planets.
At street level, the property is enclosed by a custom-made COR-TEN weathered steel fence and matching gates. Maxim Build also managed the development of the home's landscaping, creating paved areas, as well as in-situ poured concrete pavers and retaining walls for grassed areas.
Before construction of the new home could begin, our team oversaw the demolition of the existing house and the removal of asbestos from the site. Asbestos removal requires a very skilled team, however Maxim Build has the necessary experience and expertise to complete this type of work safely.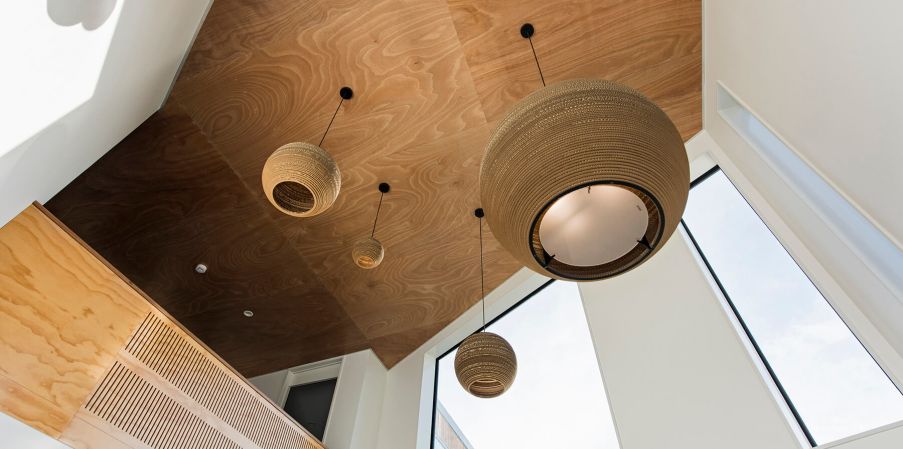 What our customer said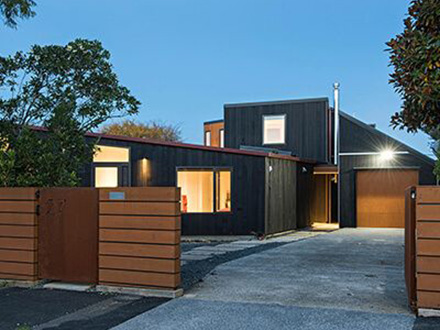 "Our architect introduced us to Colin and Tommy at Maxim Build, and we found them extremely responsive and easy to deal with right from negotiating the contract through to the final delivery of the house.

We were very involved in the build process, living just around the corner from the site. Tommy was always available to walk us through the latest developments, kept the site incredibly clean, kept the neighbours informed when necessary and managed the project very well keeping a close eye on the budget and the timeline.

We are incredibly happy with our new home and wouldn't hesitate to recommend both Tommy and Colin at Maxim Build for the quality of their work, their ability to solve problems pragmatically, their timeliness and responsiveness, and their inclusive communication."